Overview
Group workshop program based on negotiation emulation dynamics in three different dimensions.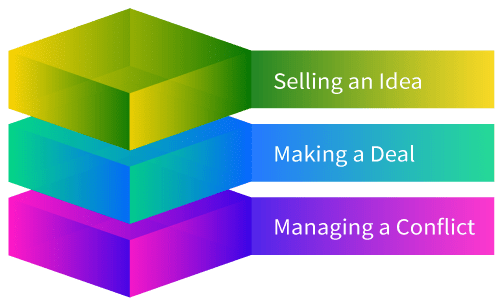 Participants must have at least a B1 (CEFR) or FBC (Trend School) level of proficiency.

Participants who are interested in developing more fluency, credibility and persuasion skills.

Participants who are frequently exposed to intercultural international negotiations, sales or purchase, as well as leading and managing people.

Participants who are willing and ready to put their knowledge and oral competencies to the test in public, in a highly interactive manner.
A more self-confident participant able to interact socially.
Higher argumentation capabilities and resourcefulness, from problem identification to alternatives propositions.
Development of persuasion strategies in communication in English.
Development of a broader awareness towards main cultural differences and their impact in negotiations.
Program Structure
On-site Fridays-only program consisting of a whole-day immersion divided into 4 sessions and complemented by a lunch-break dynamic (10 consecutive hours).
| Time | Schedule |
| --- | --- |
| 08:00 - 10:00 | Argumentation Skills |
| 10:00 - 10:30 | Coffee break |
| 10:30 - 12:30 | Roundtable l: Selling an Idea |
| 12:30 - 13:30 | Lunch meeting |
| 13:30 - 15:30 | Case II: Making a deal |
| 15:30 - 16:00 | Coffee break |
| 16:00 - 18:00 | Case II: Managing a conflict |